Security Guarding Services
We're proud to be the security partner of choice for public and private organisations across the West Midlands. Whether you're based in Birmingham, the Black Country or the surrounding areas, our highly-experienced security experts are on-hand to provide you with industry-leading security guarding services.
Here at SecurePro, our team of qualified experts care about the level of customer service we provide. That's why we'll always work closely with our clients to fully understand their security aims and objectives. As a result, we'll create and implement highly-effective security plans to keep your customers, employees and property safe. Whatever service you require, you can rest assured that you're working with fully vetted, checked and SIA-licenced security professionals who pay attention to every detail, giving you the peace of mind you need.
Whether it is providing manned security guarding services for retailers, hospitals or construction sites, SecurePro's team of trained security experts has a wealth of experience working in these fields. We've also provided comprehensive manned security solutions for private homes and events, receptions and warehouses, giving us a well-rounded level of expertise.
Whatever industry you're in – or the size and complexity of your premises – our experts will ensure no stone is left unturned as we put together a comprehensive security plan. SecurePro's specialists will undertake a detailed inspection of your facilities and boundaries, analysing current security protocols and identifying any weak areas that might require our expertise.
All of our employees are friendly, personable professionals who are SIA-licenced. They're also vetted to BS7858 industry standards and perform their duties inline with the BS7499 code of practice. This means that they meet all legal requirements and are trained with all of the skills and knowledge they need to provide a world-class customer service.
In addition, our manned security specialists are able to perform comprehensive risk assessments, safety checks and other actions to create a bespoke solution to your requirements. We'll be available 24/7 to provide superb security solutions at all times, giving you the confidence and assurance you need to feel your employees and premises are safe and secure.
CCTV Remote Monitoring, Keyholding & Alarm Response
Make sure your property receives comprehensive protection with our integrated range of CCTV remote monitoring, keyholding and alarm response services.
Designed to give either your commercial or residential property the ultimate level of protection, our experts can monitor the premises 24/7, ensuring any threat is dealt with quickly and effectively. Our state-of-the art CCTV camera systems clearly activate with a siren, enabling a member of our team to audibly warn the intruder to leave the property immediately.
SecurePro's accredited, trained security personnel are able to rapidly deploy on-site to deal with the situation effectively. Our experts will conduct a thorough site inspection, apprehending and detaining any individuals conducting criminal activity if required. Furthermore, we can quickly alert any emergency services and keep you fully updated throughout. Our specialists provide these services 24/7 on every single day of the year, providing you the reassurance you need that your property is in safe hands. Every call-out is documented in a thorough report for your review, as and when you want it.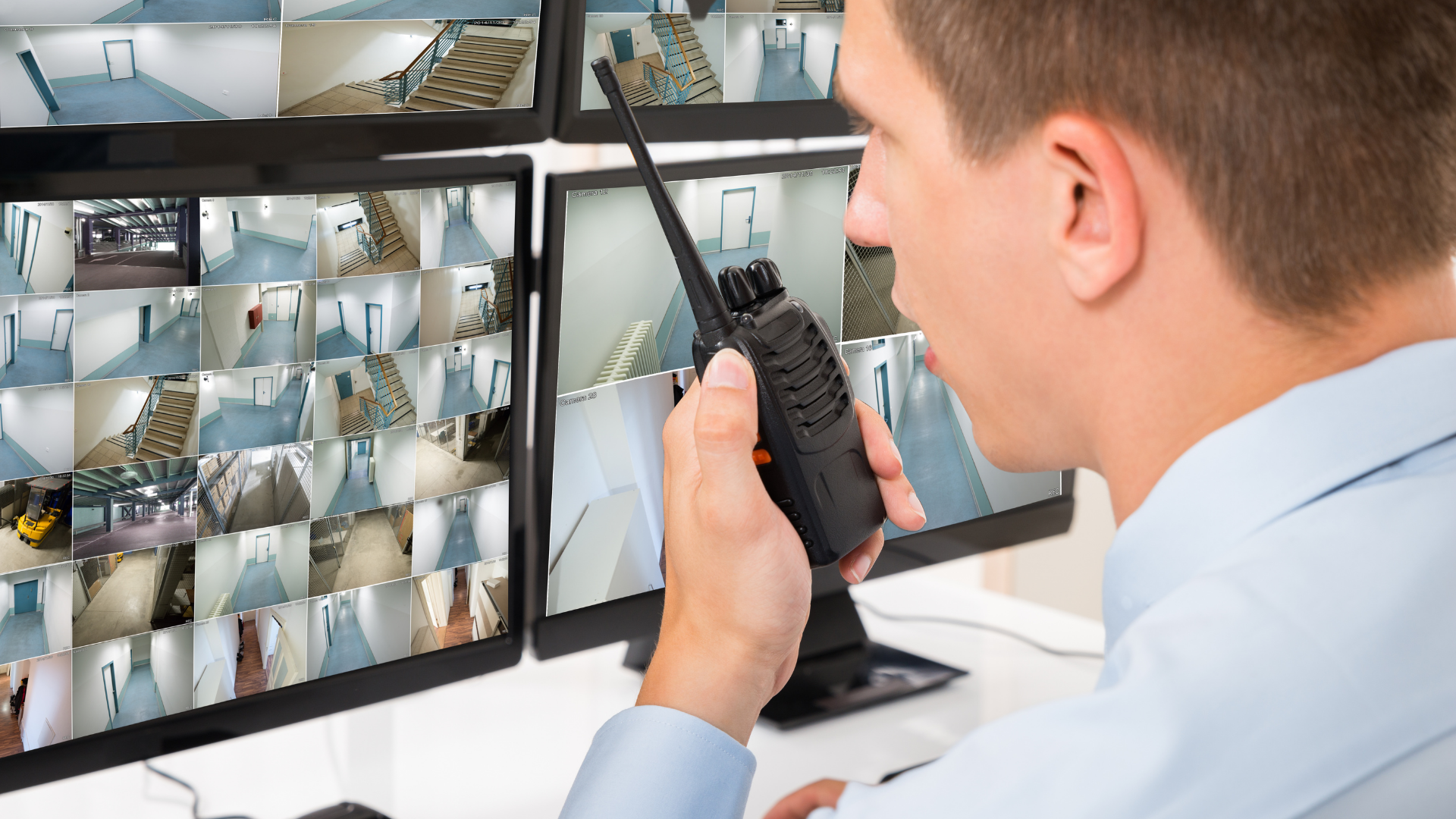 We've developed a reputation across the West Midlands as a premier provider of integrated security solutions, whether that's for security guarding services or combined CCTV monitoring and alarm response solutions. As a result, we're a trusted partner to public and private sector organisations – as well as residential customers – in maintaining high-quality security at their homes and premises. Many take advantage of our superb keyholding services, which enable us to respond quickly if any problems occur onsite. As mentioned above, if an intruder is identified or another issue requires our attendance, we can quickly get to the home or facility to deal with the situation at hand.
SecurePro's team of qualified security professionals store a spare set of our customer's keys at a secure, off-site location, giving us guaranteed access to your premises whenever we're needed. This helps our customers by reducing the amount of internal keyholders, which can often increase the risk of a pair being lost and falling into criminal hands. In addition, in the event of a dangerous scenario occurring, only our professionally trained experts can access the site to deal with the situation at hand.
Highly-trained, professional guard and patrol dogs are a highly-effective part of a comprehensive security detail. SecurePro is proud to provide a world-class offering in this field, deploying a team of security dogs and handlers trained to the highest industry standards. Our dog-handling specialists provide a superb deterrent in their high-profile, marked vehicles that make it clear to potential intruders and thieves that they are present. Furthermore, our professionally-trained guard and patrol dogs are a highly cost-effective security solution that can protect both the handler and your property. Should they need to apprehend any criminal, they're trained to do so in a controlled, professional manner.
Get Expert Security Services For Your Premises Today!
Do you need a trusted provider of integrated security solutions? Contact SecurePro's team of qualified security experts today to discuss how we can ensure your premises receive world-class security.